Full name:
Distributed Knowledge Graphs
Start date:
2020. 09. 23.
End date:
2024. 09. 22.
Participants:
Vienna University of Economics and Business
Ghent University
National University of Ireland Galway
University of Malta
Maastricht University
Friedrich-Alexander University Erlangen-Nuremberg
École des Mines de Saint-Étienne
Linköping University
Academy of Sciences, Albania
Aalborg University, Denmark
imec, Belgium
Burgas Free University, Bulgaria
University of Tuzla, Bosnia and Herzegovina
University of Zagreb, Croatia
Tallinn University of Technology, Estonia
FORTH - Hellas, Greece
Aristotle University of Thessaloniki, Greece
SZTAKI, Hungary
Reykjavik University, Iceland
Dublin City University, Ireland
Technion City, Israel
Jerusalem College of Technology, Israel
University of Salerno, Italy
Italian National Research Council
University of Latvia
University of Luxembourg
VU University Amsterdam, the Netherlands
SINTEF AS, Norway
Norwegian University of Science and Technology
Instytut Informatyki Gospodarczej sp. z o.o., Poland
ANACOM, Portugal
Universidade de Lisboa, Portugal
University Politehnica of Bucharest, Romania
Technical University of Cluj-Napoca, Romania
Institute Mihajlo Pupin, Serbia
Technical University of Kosice, Slovakia
InnoRenew CoE, Slovenia
Everyware Technologies, Spain
Universidad de Málaga, Spain
University of Applied Sciences and Arts Western Switzerland
Universität St.Gallen, Switzerland
Sabanci University, Turkey
University of Strathclyde, UK
Project homepage:
https://www.cost.eu/actions/CA19134/
Coordinator:
Karlsruhe Institute of Technology
Knowledge graphs have become the most important tools of sharing and connecting research or industry information and contacts. These graphs enable, in a flexible way, the access, use and publication of data as a distributed system.
Due to the increasing uptake of Knowledge Graph technologies, research and development communities face new challenges including the management of the ever-increasing scale and size of these graphs, maintaining quality of data and ensuring data security and privacy.
The Distributed Knowledge Graphs (DKG) EU COST project, started in the fall of 2020 aims at creating knowledge graph technologies that are standard-based, meet the FAIR principles, open, maintain data privacy and enable decentralized publication of high quality data.
Participating in the project, SZTAKI Department of Distributed Systems (DSD) - based on its previous research on semantic web and linked data - is dealing with distributed knowledge graph application technologies and creating knowledge graph based web services.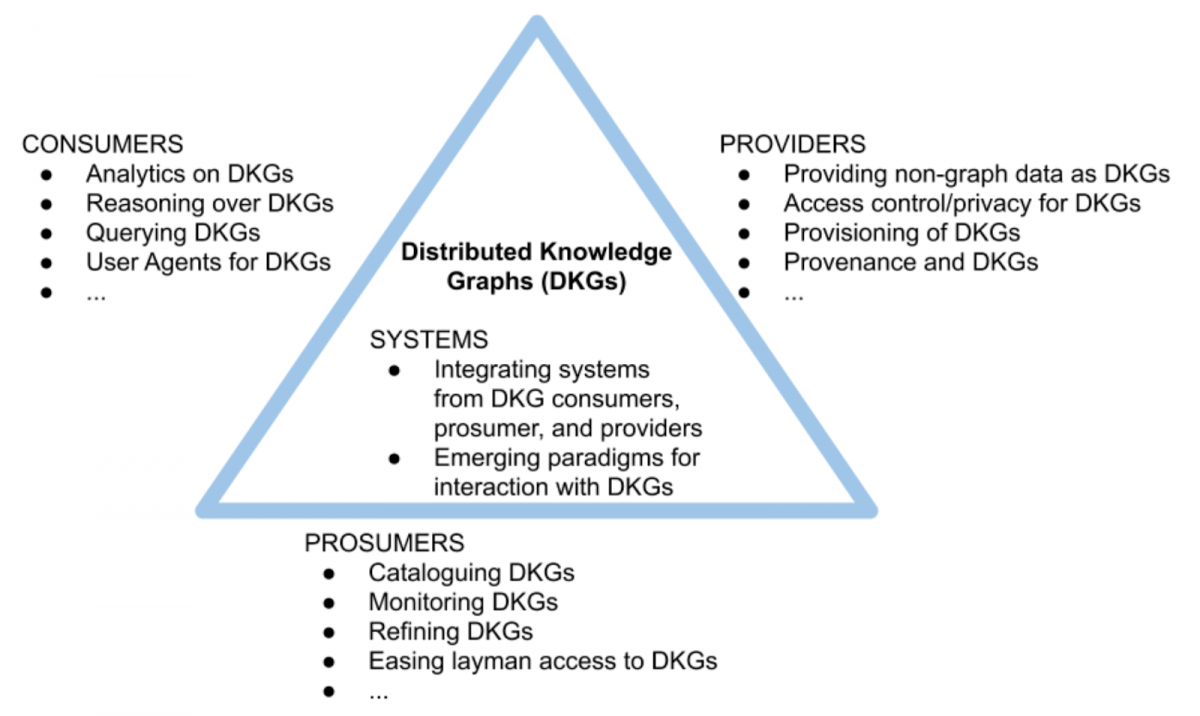 The Action is subdivided into Working Groups (WGs) by performing a separation of concerns along component boundaries of typical Distributed Knowledge Graph systems:
The Working Group providers is concerned with the scalable and privacy-protecting provisioning of Distributed Knowledge Graphs
The Working Group consumers is concerned with the integrated processing of Distributed Knowledge Graph data from a high number of sources
The Working Group prosumers is concerned with aspects that involve both publishing and consuming data: For instance, catalogues consume Distributed Knowledge Graphs when monitoring, and publish the monitoring results.
The Working Group systems is concerned with aspects that concern all parts of a Distributed Knowledge Graph system, e.g. novel interface paradigms, which shift tasks and complexity between different parts of a system
The graph-based data model allows for the eased combination of data from different sources, as the data model works without a predefined schema. The combination of data with data from other sources can greatly enhance own data, e.g. for analytics. The distributed architecture reflects, on the one hand, the sheer scale of the data at hand, which makes it hard to store the data in one place, and on the other hand, the decentralised approach to publishing, that is, data can be generated without involving a central authority.
As the uptake of knowledge graph technologies is rising, new challenges are coming up to enable a truly functioning ecosystem of distributed FAIR Knowledge Graphs, where Semantic Web technologies and Linked Data connect to the variety of structured data available on the Web. Those challenges require fundamental research in terms of dealing with the scale and the degree of distribution of knowledge graphs, besides monitoring and maintaining data quality. To further the uptake, the Action develops best practices for publication and consumption. Tackling these research questions will need a stronger collaboration within the community and a joint effort to establish a more functional, decentralized Web of Data.