Established in 1994, SZTAKI DSD (Department of Distributed Systems) played a pioneering role in the introduction and application of the Internet and WWW technologies in Hungary. Since the mid-90s DSD has specialized in the research and development of artificial intelligence, internet science, digital library and archiving systems, distributed knowledge management, distributed computer systems, applications and middleware including World Wide Web-based software systems, web, semantic web, groupware applications and services, CSCW, digital art projects and mobile computing.
In the picture below DSD scientific areas are introduced which, based on web, cloud and several other technologies, and enforced by the three DSD-specific pillars, support our present work related to artificial intelligence and internet science.
DSD gives priority to the planning and development of distributed network infrastructures that support the research and development of AI (artificial intelligence), and to the research and development regarding the special services of data management tasks in these infrastructures.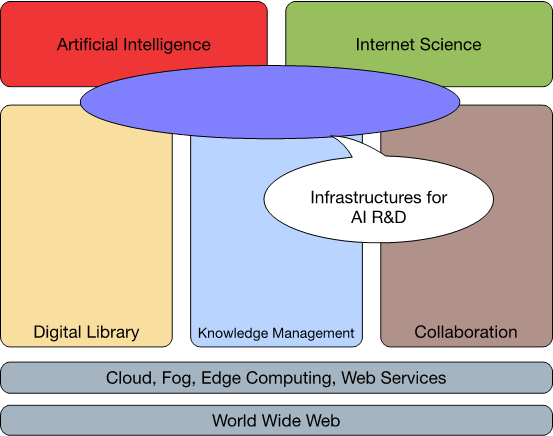 Infrastructural approach enables DSD to directly apply its know-how created in the areas of data management, graph-based knowledge management and semantic web, and to integrate it into a unified research and development supporting system.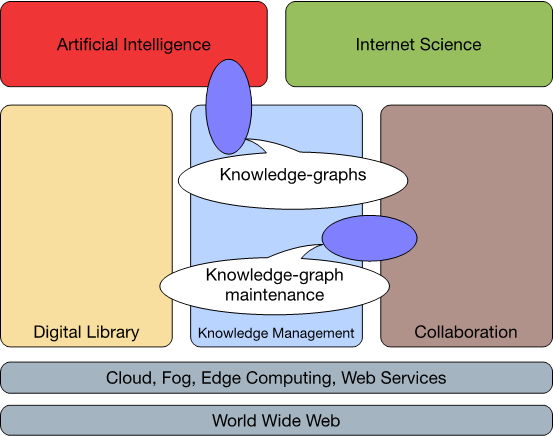 DSD develops specialized artificial intelligence solutions and applications for data filtering and data cleansing particularly related to research data handling.
Facing today's challenges regarding the load and diversity of information and digital content, DSD is actively involved in the research and development (methods, technologies, applications) of digital library and archiving systems, repositories, metadata registers, semantic data management and data storage services (nowadays, most significantly for artificial intelligence) which aim at ensuring usability, accessibility, scalability and long-term preservation.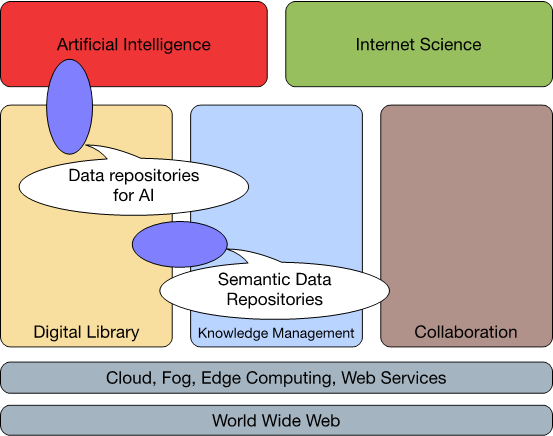 Current activities of DSD involve, with the help of virtualization methodology and middleware software, and using cloud or cloud related network services (cloud, fog, edge, P2P computing), the development of knowledge management systems, semantic web, linked data architectures, platforms, methods and tools that enable content awareness, personalization and dynamic service- and datafusion.
DSD also initiates research to form the service system for the Internet of the Future. It has also conducted research and development in the architectural, functional and user interface aspects of groupware including calendar/agenda applications, group based project management systems, workflow systems, meeting support systems, discussion forums, decision support and voting systems.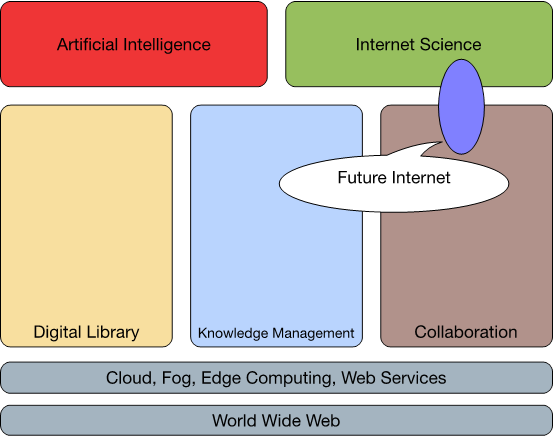 Our mission
Our main task is to find solutions to problems where such unique and special IT knowledge is needed where only few try. We take the challenge to enter research and development projects, where interdisciplinarity inside and out of informatics is inevitable, and where our colleagues can show their wide range of expertise, interests and experience.
Great emphasis is put on reliability: DSD would rather not undertake a task if we are not absolutely certain that a solution of outstanding quality is delivered on time. However, high quality solutions are not presented only on commission or due to project obligations. During "in-between-projects" time several, for the Hungarian society, important and useful activities have taken place – not as if our projects have been fruitless. As a result, among others, the most popular Hungarian on-line dictionary service SZTAKI Szótár was created in 1994, serving 40,000 users every day.
DSD develops complex systems, let them be either abstract (theoretical fundamental research) or operating and complicated software systems along the paradigm of post-academic scientific research and knowledge creation. When developing systems, we mainly use JAVA, Javascript, PHP, SQL, SPARQL, JSON, but we may also turn to other technologies. Rarely we use PERL, but deny it afterwards.
DSD in numbers
DSD activities in the past 25 years are presented in the referenced page with the help of infographics: projects, technologies applied to develop systems, international and Hungarian partnerships are displayed on several charts, and put on a map and timeline.
Actual keywords of DSD
artificial intelligence, reinforced learning, learning algorithm, research data handling, collaborative knowledge management, knowledge graph, RDF, RDFS, OWL, LLD (Library Linked Data), LOD (Linked Open Data), SKOS, cloud, fog, and edge system, semantic web and semantic web services, ontology, distributed system, context-awareness, mobile application, social computing, CSCW, groupware application, multi-criteria group decision support system, P2P, peer-to-peer, SOA, service-oriented architecture, SLA, digital library, digital archive, Dublin Core, long-term digital preservation
On-going R&D projects
The Department of Distributed Systems (DSD) has been participating in the following EC funded and other projects as research and development partner:
DKG: Distributed Knowledge Graphs
CONCORDA: Concentrated Cooperation on Research Data
MTMT2: Hungarian Scientific Bibliography 2.0 development
W3C-HU: World Wide Web Consortium Hungarian Office
ARP: ELKH Data Repository project
DIWAS: Digital Work Assitant
iToBoS: Intelligent Total Body Scanner for Early Detection of Melanoma
Past projects
SYMBIO-TIC: SYMBIO-TIC
COURAGE: Cultural Opposition – Understanding the CultuRal HeritAGE of Dissent in the Former Socialist Countries
SZTAKIMemory: SZTAKIMemory - Non Deletable Digital Archive System as Institutional Memory
Share-PSI 2.0: Shared Standards for Open Data and Public Sector Information
Chaoster: Context-aware collaboration platform for crisis/chaos management based on the concept of emergent interoperability
TolmacsKesztyu: InterpreterGlove
BonFIRE: Building service testbeds on FIRE
VISIONAIR: VISION Advanced Infrastructure for Research
ChaosFIRE: ChaosFIRE - Fed4Fire Innovative Experiment for Measuring Effectiveness of an Opportunistic Network Platform for Sensor Data Collection and Distribution
MunkaPad: Integrated eScience platform based on LOD
NextGeneration: The next generation of scientific journals
DONAU: RICOH-SZTAKI collaboration
SZTAKI Dictionary 4.0: SZTAKI Dictionary's major rewrite
KOPI-Trans: Translational plagiarism
CrossMedia: CrossMedia Semantic Annotation and Search service
CloudBricks EU FP7 proposal preparation: CloudBricks - Simplifying Cloud-usage and expanding its availability with a building-block-style approach - EU FP7 proposal preparation
S-CUBE: European Network of Excellence in Software Services and Systems
N-Cloud: Nuance-SZTAKI cooperation
BREIN: Business objective driven reliable and intelligent Grids for real business
T-ONE: Methodology for ergonomic web development and design
ILI: Intelligent Visitor Guidance
ABILITIES: Application Bus for InteroperabiLITy In enlarged Europe SMEs
DELOS NoE: DELOS Network of Excellence on Digital Libraries
Meta-contentum: META-CONTENTUM R&D Project
INFRAWEBS: Intelligent Framework for Generating Open (Adaptable) Development Platforms for Web-Service Enabled Applications Using Semantic Web Technologies, Distributed Decision Support Units and Multi-Agent-Systems
MIK: MIK 3.1.2. Service and Application Development for Mobile systems
ORG: National Cancer Registry GRID
T-SOA: Concurrent Transaction Handling in Service Oriented Architectures
T-Intra: Hungarian Telekom Intranet Forum System
GeneSyS: Generic Systems Supervision
MOVOT: Modernization Of Electronic Voting Procedures
EUTIST-AMI: European Take-Up of Essential Information Society Technologies
StreamOnTheFly: Personalized Community Radio Program with Collaborative Filtering Agents and Bandwidth Sensitive Streaming
PublicVoiceXML: VoiceXML Trial for an Open Source Reference Implementation
Kaposvar: Demand Driven Information Tools for E-Administration
HEKTAR: Applying open digital library recommandations to Hungarian electronic libraries.
KOPI: KOPI Online Plagiarism Search and Information Portal
PROMOCIO: Proactive Multimodal Collaboration and Monitoring Platform for Independent Organizations
Cogitatio: Decision Support Based on Argument Mapping
Web4Groups: Transfer of Knowledge between Research, Education, Business and Public Administration through the World Wide Web
DELOS NoE FP5: DELOS Network of Excellence
DELOS: DELOS
SELECT: Metadata Architecture for Rating, Filtering & Recommender Services
CORES: A Forum on Shared Metadata Vocabularies
AQUA: Advanced Query User Interface Architecture
KNIXMAS: Knowledge Shared XPS-based Research Network Using Multi-Agent Systems
VASIE: Value Added Software Information for Europe
DSD develops and maintains Web services and home pages
Scientific Conferences
Other Activities
MTA SZTAKI DSD, the Department of Distributed Systems was one of the very first professional groups that ignited the World Wide Web revolution in Hungary including the invention of the Hungarian terminologies of this area. Have a look at the significant steps of this history presented as a timeline (in Hungarian):