| | |
| --- | --- |
| Full name: | Personalized Community Radio Program with Collaborative Filtering Agents and Bandwidth Sensitive Streaming |
| Number: | IST-2001-32226 |
| Start date: | 2002. 01. 01. |
| End date: | 2004. 30. 06. |
| Participants: | |
| Cost: | 1.475 million EURO |
| Project homepage: | http://dsd.sztaki.hu/projects/past/sotf/en/ |
Introduction
StreamOnTheFly is about offering a personalised community radio program with collaborative filtering agents and bandwidth sensitive streaming.
StreamOnTheFly demonstrated new ways of management and personalisation technologies for audio content using cutting-edge middleware and agent technologies. Many programs produced at community radio stations are too valuable to be broadcasted only once! We worked on recycling technologies, making them accessible on-line and on mobile devices anytime, whereas personalisation of the radio program was an important goal shown in the StreamOnTheFly trial.
The end user is be able to tailor automated content packaging for personalised audio content and s/he may choose between web/WAP/GPRS access. Content selection is based on the options of notification, personal and collaborative filtering, facilitating time-independent, personalised access to quality audio content, which is enriched with audio specific metadata. We performed a trial within the production usage of a radio station, which expects a 30% gain of listeners and listening time. Software customisation were driven by real user needs. Expected effects were measured about the affiliation of listeners, the influence on the production process or possible revenue streams gained from offering audio-microportals to big portals.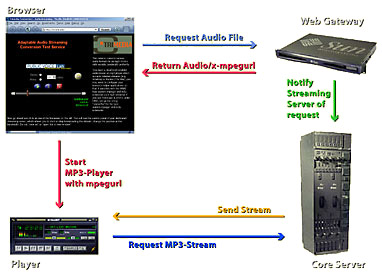 Within the EUTIST-AMI cluster, StreamOnTheFly provided a trial on combining and fine-tuning existing middleware and agent technologies for the broadcasting sector.